6 Sunscreen Ingredients to Avoid + Our Favorite Nontoxic Sunscreen Picks
Last summer, I had a total crisis over sunscreen. Dermatologists tell you to wear it! But then I started reading things from others saying, no, don't wear it—lack of sun exposure keeps you from making vitamin D. And while I knew that the chemical UV filters in many conventional sunscreens were dangerous, I also started to see speculation that nanoparticles in mineral sunscreens weren't so great either, and that some of the chemicals in sunscreens were hurting the environment.
How can you decide what to do when there's someone out there railing against just about every option there is?! How do you know who to trust?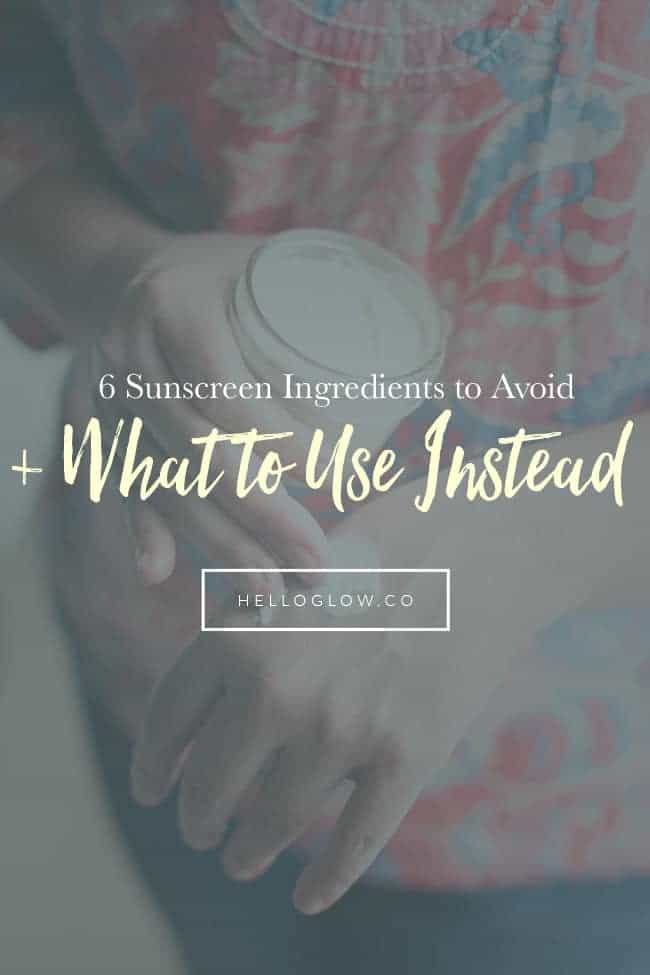 Sunscreen Ingredients to Avoid
After much time spent reading different sources, I decided to go with the Environmental Working Group's recommendations because they seemed like a nice middle ground between "wear all the chemical sunscreens all the time" and "never wear sunscreen ever until your skin looks and feels like beef jerky." (Ew.) 
These are the ingredients they recommend avoiding [source]:
Oxybenzone – Acts like estrogen in the body [source] and has high rates of skin allergy (high toxicity concern). This chemical is also one of the many sunscreen chemicals that is being found in almost all water sources and in some species of fish [source].
Octinoxate (octyl methoxycinnamate) – Possible hormone-like activity thought to cause reproductive, thyroid, and behavioral issues. Found in mothers' milk in one study [source] (high toxicity concern).
Homosalate – Disrupts estrogen, androgen, and progesterone (moderate toxicity concern).
Octisalate + Octocrylene – Skin penetration was found in lab studies (moderate toxicity concern).
Retinyl palmitate – May speed the development of skin tumors and lesions when applied to the skin in the presence of sunlight [source]. Also avoid any other skincare products with retinyl palmitate, Vitamin A, retinol, retinyl acetate, retinyl linoleate, and retinoic acid when you're going to be out in the sun.
Titanium dioxide, zinc oxide, avobenzone, and mexoryl SX are all listed as UV filters with lower toxicity concerns. The first two in the list are considered inorganic, or mineral sunscreen ingredients.
They are the only ones the FDA has come out stating there is enough evidence to be "generally recognized as safe and effective" or GRASE [source]. Apparently, with all of the rest, there just isn't enough information, so using sunscreens with these mineral filters is, at this point, considered a safer choice.
But then there's that pesky issue of the nanoparticles. The mineral sunscreens have been broken down into tiny little particles so they won't come out so chalky on the skin. Some of the scaremongering articles I had read about them claimed that nanoparticles could penetrate the skin, causing damage to internal organs.
The good news is that studies have shown that's just not the case [source]. The bad news about nanoparticles is that they do cause lung damage when inhaled, so it's best to stick with sunscreen lotions instead of sprays [source].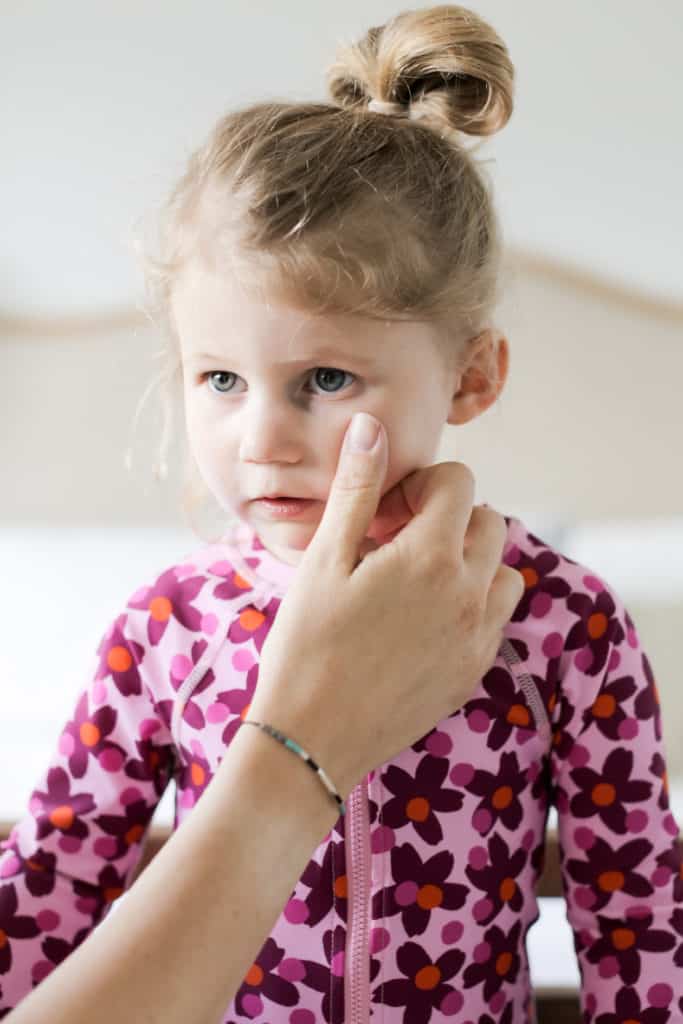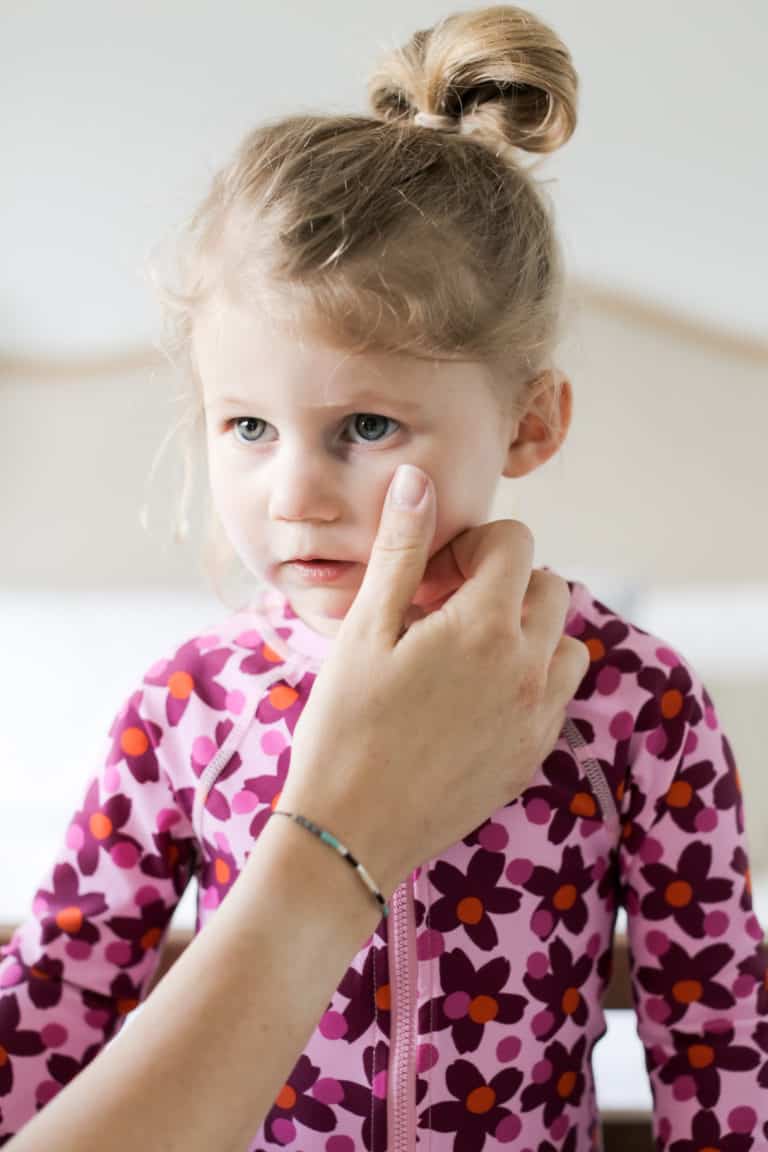 So here's what I decided:
It's true, we all need some sun—in moderation. I decided to go outside with my daughter in the early morning before UV rays are at their peak strength, without sunscreen, so we could get our daily dose of Vitamin D.
When the sun is at its peak between the hours of 11:00 am and 2:00 pm, we mostly try to avoid sun exposure, but if we have to be outside, we put on natural sunscreen with mineral, not chemical, barriers to UV rays.
We don't use spray-on sunscreens to protect against the inhalation of nanoparticles.
I always use a facial moisturizer with built-in mineral sunblock.
Physical barriers to the sun's rays are still the best protection all around: Stay in the shade and "cover up with long sleeves and cover ups, wear a large-brimmed hat, and UV-blocking sunglasses," says Dr. Christina Lee Chung, a board-certified dermatologist at Schweiger Dermatology.

How to Choose the Best Sunscreen
Plan Ahead. Healthy choices are unfortunately slim to none at most local drugstores. Not only will stocking up ahead of time enable you to find the best price, but you can do research on which sunscreens are safest.
Read the Labels. I cannot stress this one enough! Just because a sunscreen claims to have mineral ingredients does not mean it won't also have chemicals. Read the label of active ingredients carefully.
Get Used to Frequent Reapplication. I'm not going to lie; safe sunscreens do not last as long as those chemical products where you can just spray on your kids and not have to reapply for hours. Most sunscreens that are safe for kids (and really all of us) don't last longer than 80 or so minutes.
Dr. Chung's reminders: "Make sure to apply your sunscreen 15-30 minutes before heading out, and use approximately two tablespoons of sunscreen to cover your body."
Research. The best resource for finding safe sunscreens is the EWG website, specifically their annual sunscreen guide, which lets you search most sunscreens and find out their ratings. The lower the rating, the safer it is. I recommend sticking to 1's only if at all possible, a 2 if you have to.
Skip the Spray. Unfortunately spray sunscreens are not as safe as creams and lotions. The safest spray I have come across is still only rated a 3 by EWG.
Best Nontoxic Sunscreens
Now that you know what to avoid, here are some of our favorite nontoxic sunscreens. (Or you can make your own!)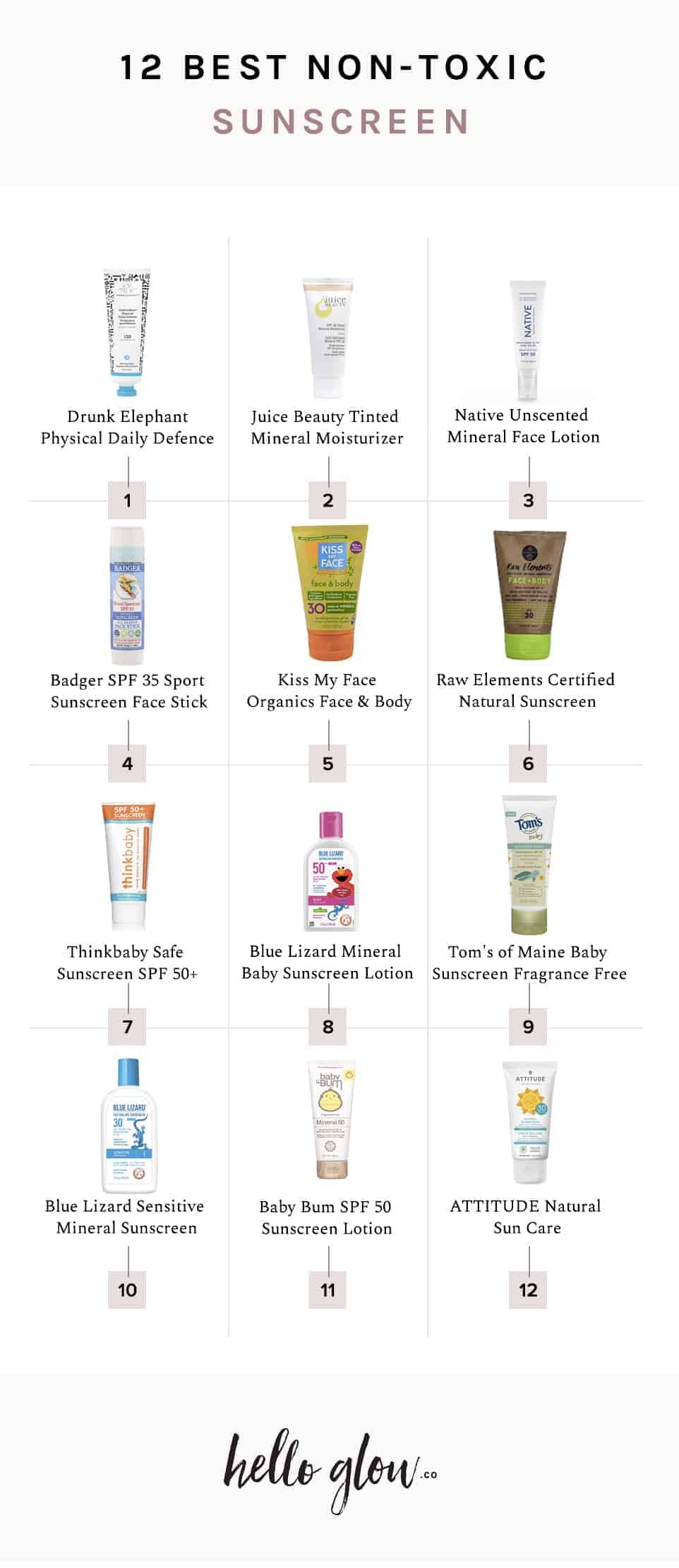 For the Face
Drunk Elephant is rated a 1, comes in both tinted and untinted, and both are SPF 30. This is my personal go-to sunscreen every single day. You cannot beat its hydration and protection.
Juice Beauty Tinted Mineral Moisturizer comes in a range of shades, is rated a 1, and has an SPF of 30.
Native Mineral Sunscreen Face Lotion, Unscented, Spf 30 is a broad spectrum sunscreen made with naturally derived non-nano zinc oxide, with a gentle, lightweight formula. 
Badger SPF 35 Sport Sunscreen Face Stick has an ultra-moisturizing and soothing certified organic base of extra virgin olive oil, beeswax, cocoa butter, and shea butter, and is rated 1.
For the Face and Body
Kiss My Face Organics Face & Body SPF 30 is rated 1. However, not all sunscreens by this brand rate as well, so stick to just this specific one or research the others before buying.
Raw Elements Certified Natural Sunscreen is rated 1. It's good for active beach-goers, but it's also gentle on the skin and moisturizing.
For the Kids
Think is the go-to sunscreen brand for our vacations and beach trips. Their award-winning entire line rates a 1 and ranges in SPF from 30 to 50. Their sunscreens include everything from baby safe to water-resistant for sports.
Aveeno Baby Continuous Protection Zinc Oxide Sunscreen Lotion, rated 1, is as mild as water, and can be applied to baby's skin easily to lock in moisture without stinging or irritation.
Blue Lizard Mineral Baby SPF 50+ Sunscreen Lotion is designed especially for sensitive baby skin, using Zinc Oxide and Titanium Dioxide for SPF 50 protection. 
For the Whole Family
Blue Lizard Sensitive SPF 30 is rated a 1 by EWG. This brand also has a large range of sunscreens, but only this particular sunscreen is rated safest.
Baby Bum SPF 50 Sunscreen Lotion is rated 1, hypoallergenic, and created with all natural, reef-friendly ingredients designed to protect babies' thin and sensitive skin from UVA rays.
ATTITUDE Natural Sun Care is made with 100% non-nano zinc oxide and rated 1 on EWG. 
This article was medically reviewed by Dr. Gina Jansheski, a licensed, board-certified pediatrician who has been practicing for more than 20 years. Learn more about Hello Glow's medical reviewers here. As always, this is not personal medical advice and we recommend that you talk with your doctor.