Screenwriter Camilla Blackett of 'Foxy Browns' on Skin Care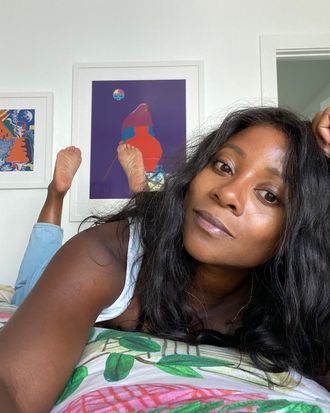 Photo: Courtesy of Camilla Blackett
Want more skin care? Join the Beauty Group on Facebook.
Camilla Blackett believes Fenty Beauty's 40-shade foundation range will one day be in the Smithsonian. The screenwriter, who has worked on television shows like New Girl, Skins, The Newsroom, and Fresh Off the Boat, points to "the Fenty effect," which inspired other brands to expand their own foundation collections with varying dark hues, to make her point. "What those 40 shades of foundation did is just remarkable," says Blackett. "And it was so revealing in how common that feeling of exclusion is for non-white women [in the beauty industry]. That feeling — that you don't deserve to have these experiences, that leisure and pleasure and wellness are only for white women — is imbued within you at such a young age and then filters into every other area of your life and makes you feel so separate and so alienated."
Blackett knows this feeling all too well and regularly confronts it on her podcast, Foxy Browns, which she co-hosts with fellow writer Priyanka Matoo. Blackett ultimately wants to convey that the problem goes far beyond an annoyance for women of color. "It's actually a life-and-death issue," the screenwriter explains. "For example, as a dermatologist, if you cannot recognize cancerous growths and moles, that's killing people. Recently, I posted a story on Instagram that had photos side by side, and it showed what five different skin conditions look like on white skin versus darker skin; they look completely different. Within two seconds, I had a friend — she is white, and she has a child who is Black and adopted — instantly DM me. She said, 'This has been all over my daughter's skin. I've gone to three dermatologists, and they have told me they don't know what it is. And this one Instagram slide just showed me.' And this is in Los Angeles, which is the city of dermatologists!"
This is why the screenwriter opts for "clean" products to care for her skin, which skews oily and is prone to hyperpigmentation. Blackett knows there is no regulation around the marketing of the term clean at the moment, but she sees the trend as a stepping-stone for tighter regulation around products marketed to women of color. "There was an article in a magazine years ago about the higher level of pathogens in skin-care and hair-care products for Black women, and that was really horrifying to me. It talked about everything from hair relaxers to hair pomades to face powders and just how much less care there is for non-white women in terms of health. It made me stop and start looking at the labels of the things I was buying and ask, Okay, what is this ingredient?" Plus, it just so happens that "all of these products really work for me."
As for her other ride-or-die, Blackett swears by Astrid Howe in Studio City, Los Angeles, who specializes in fascia massage to get rid of stubborn cellulite. It's a painful process, but it helps Blackett avoid injectables and surgery. "I try and keep to practices that are going to aid my body's own resilience and regeneration as opposed to something under the skin that I'll have to go back and get done in a couple of months and that is keeping me in this endless cycle of injectables," she says. "Astrid's very focused on breaking down and massaging out the actual skin. She puts you on this infrared sauna-bed thing, you're sweating, and she starts pummeling the crap out of you with these tools to break down the tissue that's become tight." Blackett leaves each visit visibly bruised, but she promises the more bruising you have, the better your results: "It's insane. I look like a leopard with spots, then days later, I catch myself in the mirror, and I'm like, Whose smooth thighs are these?!"
Below, Blackett breaks down her go-to skin-care products, including the secret-recipe moisturizer made by Daniel Kaluuya's mom, the face mask she swears "gives you a brand-new face," and the serum she says works better than any vitamin-C product.
"I used to use the Eminence Organic Skin Care Stone Crop Cleansing Oil, which I still like, but I tried this Tata one on a whim and I really loved it. It makes my face feel clean afterward but still quite dewy — I feel like I have to use even less moisturizer on my face after I use it. It also really helps balance the amount of oil my skin is producing, it seems.
"I love the smell of all the Tata products as well. As I'm doing my skin care in the morning, it's a very pleasant ritual to put nice-smelling things on your face. This one, in particular, is definitely more earthy than floral."
"I used to use both the Tata Harper Oil Cleanser [above] and this Exfoliating Cleanser together for a period when I was younger, but then someone told me, 'No, no. This is actually stripping your skin.' So now I use this every other day, and it doesn't make me feel stripped or irritated. It sloughs away dead skin and leaves me reasonably glowy."
"I use this mask once a week, and it basically gives you a brand-new face. It's like a pinky little gel, and you let it hang out for 15-to-20 minutes — the first couple of times I used it, it felt a little tingly. When you rinse it off, you touch your skin and you're like, Oh my God. You know Baby Foot? This is like that but for your face and less horrifying."
"I know Black isn't supposed to crack and everything, but I live in Los Angeles, and if you dare look a day over 12, they spirit you away in the middle of the night to a cave in the mountains where nobody has to look at you. And this device is mad. It's ridiculous that it's like, 'Yeah, just electrocute your face a little bit every day,' but that shit works. Whenever I would go and see my aesthetician, I would feel her rolling these cold balls over my face, and when I got home, I'd be looking at myself in the mirror all day going, What does she do to me?! It was microcurrent. I really was skeptical of it, though, but I thought, Let me give it a go, and then after a few days of using it, I was just like, Oh shit. It lifts everything. You know when your face just looks tired? Like, no matter how much sleep you get, you look tired? The NuFace wakes everything up.
"I'll usually use it for two-to-five minutes, but if I've got a photo shoot or event or something, then I'll do the full ten minutes and get every single corner of my face. But that's a luxury, and I don't have the time for it every day."
"I use this as a conductor when I use the NuFace device [above]. The NuFace comes with the brand's own conductor that it wants to keep you buying. It's pretty expensive, and my esthetician doesn't like it at all — she doesn't like the filler ingredients in it — so she recommended this aloe, which is very pure and really is a great conductor. It's an excellent price point, and it lasts so long. It always leaves a dewiness on my skin that just looks really great and really healthy."
"This is the only thing that has worked for my pigmentation. Vitamin C barely works on Black skin — I'm sorry, but the girls are lying! When I was talking to my Black women about this, they've all been using vitamin C because that's what we've always been told is the best thing for hyperpigmentation. So we'll be using it and having only incremental results and thinking the problem is us when, in actual fact, it's because those other brands don't know or give a shit about Black skin.
"Topicals did what needed to be done with this serum. It has tranexamic acid, azelaic acid, and niacinamide, so there's no vitamin C in it. Because of this product, I don't even really get pigmentation at all anymore, and if I do, it's gone in a few days. Plus, the tube lasts for months."
Photo: Retailer
"This is a great moisturizer because it complements the Clear Skin Probiotic Moisturizer that I use at night. It's a little bit thicker because it has sunscreen in it, but it doesn't leave the whiteness that you often get when you use sunscreen on dark skin. It's zinc based, so it's quite powerful, which I like, and it sinks in quite quickly, too."
Photo: Retailer
"I'll top up my moisturizer with something from Supergoop! I have pretty much every single one of its sunscreens. The mattifying one is incredible, and it feels so silky on your skin, which I really love. The face powder, which has SPF in it, is awesome. Generally, I don't love a lot of multitasking products because you feel like you're getting screwed on one thing, but there are a couple that I make exceptions for and those are the Supergoop! ones and the Eminence SPF [above]."
"A body-skin routine is just as important as one for face skin — my body is holding all my organs inside, so taking care of it is the least I can do. I use this dry brush (the first was actually gifted to me) for general circulation and to keep my body skin feeling even, but it's also really fantastic for cellulite and getting rid of dead, dry skin. Some dry brushes feel just a bit too harsh and a bit rough, and when something's not an enjoyable feeling, you don't do it as much. This one's got a softness to it, but it's still rigorous. My body feels alive after I do it. I've just touched every part of my body, and I feel in touch with it. I'll typically use it for however long it takes for my shower to get warm, like two-to-three minutes. At the end of my shower, I progressively turn the temperature down until it's cold — cold water is great for circulation, and pretty much every body-skin aesthetician I've seen recommends it."
Photo: Courtesy of Camilla Blackett
"I'm friends with Daniel Kaluuya, and his mom, Damalie Namusoke, makes this incredible moisturizer. I don't know what she uses in it — she will not tell us the ingredients — but it is very thick, and she uses herbs that she brings over when she goes to Uganda. She whips it up in her kitchen, and when she's making a batch, a text message from Daniel goes out to the homies. It's like, 'She's doing another batch. Do you want some?' Like, 'Yeah, obviously. I need a re-up.' So whenever he goes back to England, he'll bring it to L.A. It comes in a plain black container, and truly, this stuff is like gold dust. I often use it when I'm doing a long-haul flight. I will slather my body in it before I get on the plane, and when I emerge on the other side, I don't have that horrible, crusty plane dryness. It's the enemy of ashiness. We're constantly in a battle to try to get her to actually produce this on a mass level because everyone needs this product. I mean, she's been making it for Daniel since he was a kid, and if you look at his skin, that's the ultimate endorsement — that's the whole sales pitch."
Photo: Retailer
"Kari Jensen, the founder of Poppy & Someday, is incredible and has this beautiful spa in Laurel Canyon that's based out of her house. She grows all of the plants she uses in her products and then presses and distills them in her garage; it's a beautiful workshop. Her little garden spa is actually kind of what I based my own garden on, to be honest — it has an outdoor bathtub and an outdoor shower. You can go up there and do a spa day by yourself, and there's a lovely outdoor bath so you can do that and then get in a sauna. There's a lovely steam room, too, and bodywork like reiki. It feels like you're on another planet — it truly doesn't feel like you're in Los Angeles at all because you're up in the hills in this lovely little hidden house. I remember going for the first time in the run-up to my wedding, and I needed it so badly. Like just all of that emotional stress comes at you. When I was driving down the hill afterward, I felt it was the first time back in my body after a very long time.
"I love her Vyana Salt Scrub — it smells amazing; I think there's cinnamon in there — but she has a balm that has CBD. I use that when I get any soreness in my muscles, and it works so well — the potency of the plants Kari uses is very good because she has control over every stage of the process of the entire supply chain 'cause it's literally around the house. The salve leaves your skin so soft and moisturized. It's a bit of a rescue product. If I were doing a bikini issue or something like that, I would definitely use that beforehand because it makes your entire body shimmer in a way that is beautiful but looks really natural."