Lindsay Lohan's style evolution – i-D
We often don't give Lindsay Lohan enough credit for her impact on fashion and culture across the last two decades. The starlet, who rose to fame in a myriad of Disney films, quickly became the name on everyone's lips with her iconic acting performances (The Parent Trap, Freaky Friday, Mean Girls…), two studio albums, a never ending stream of paparazzi pics and her singular fashion sense that we all wanted to emulate. From the mini dresses, low-rise jeans and strappy heels of her Y2K era to the mid-noughties LA glam that caught the eye of The Bling Ring teens, Lindsay served up looks with a dose of her playful sense of humour. Even into the early 2010s she continued to define trends of the moment through fashion lines and enviable street style.  
The actress, model, singer, socialite, fashion designer, i-D cover star, Mykonos club owner, Masked Singer judge and viral dancing meme has had many lives. While we expect many more iconic fashion moments from Lilo, we look back at some of her best outfits to chart her style evolution from the 90s to today.
For Calvin Klein Kids, circa 1998
Before her acclaimed movie debut as long-separated, peanut butter and oreo-eating twins Annie and Hallie in Disney's The Parent Trap (1998), Lindsay Lohan had already been making a name for herself as a child model. Signed to Ford Models at the age of three, she starred in campaigns for Abercrombie & Fitch, Tommy Hilfiger and Jell-O, as well as editorials for major fashion magazines. Here, Lindsay poses in a series of very 90s, very iconic Calvin Klein Kids ads with younger sister Allie.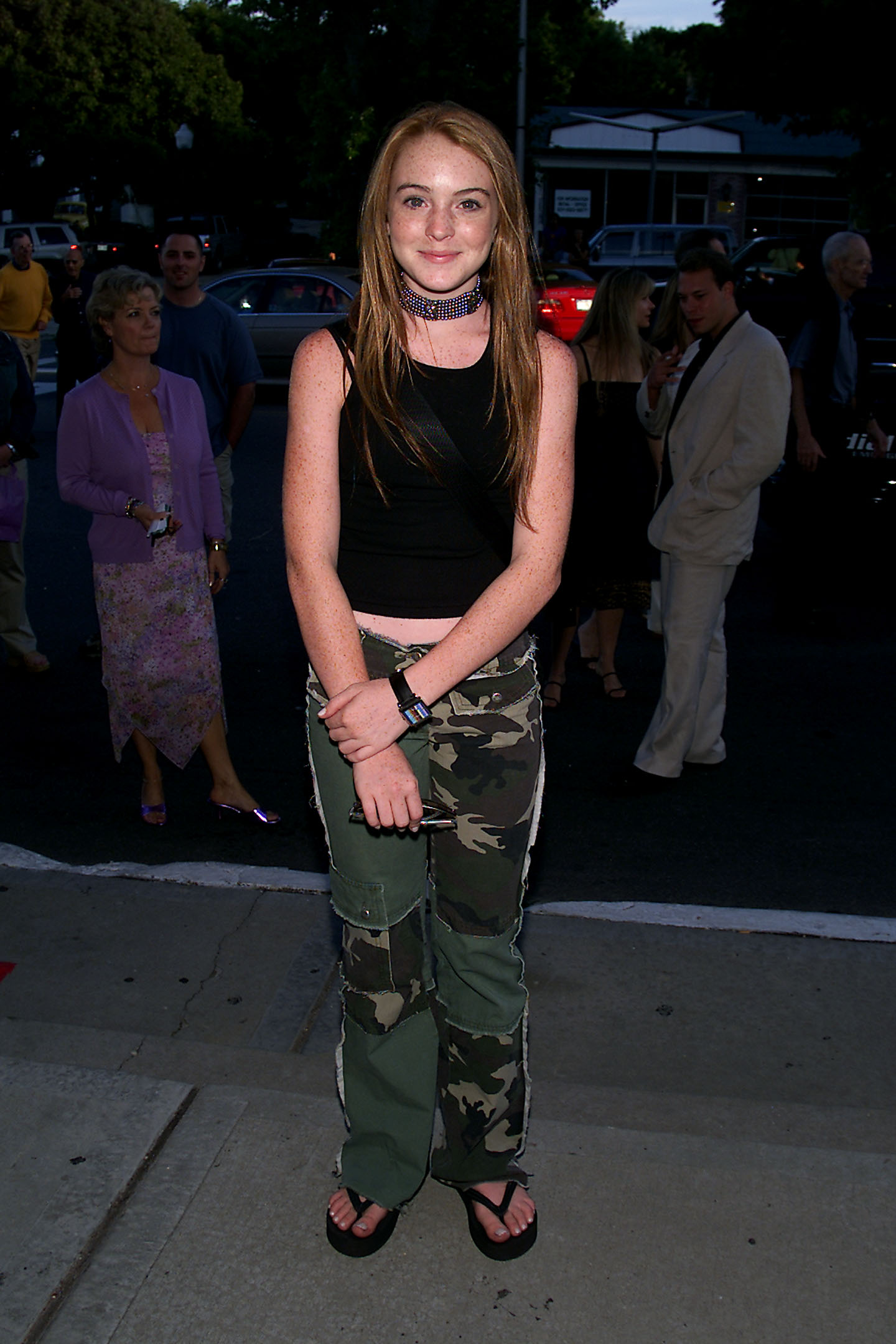 Photo by Evan Agostini/Getty Images
At a movie screening in New York, 2001
We saw Lindsay wearing army pants and flip-flops, so we bought army pants and flip-flops. Before that iconic line had even been thought up by Mean Girls writer Tina Fey, our Lilo had already paraded this laid-back style at an HBO event in Southampton, New York. Wearing distressed patchwork khaki trousers with a navel-grazing fitted black vest, platform flip-flops, a chunky beaded choker and what looks like an Apple watch but is definitely not an Apple Watch, the look — alongside her Juicy Couture tracksuits — is emblematic of Lindsay's Y2K style: cute and casual with a little bit of grunge.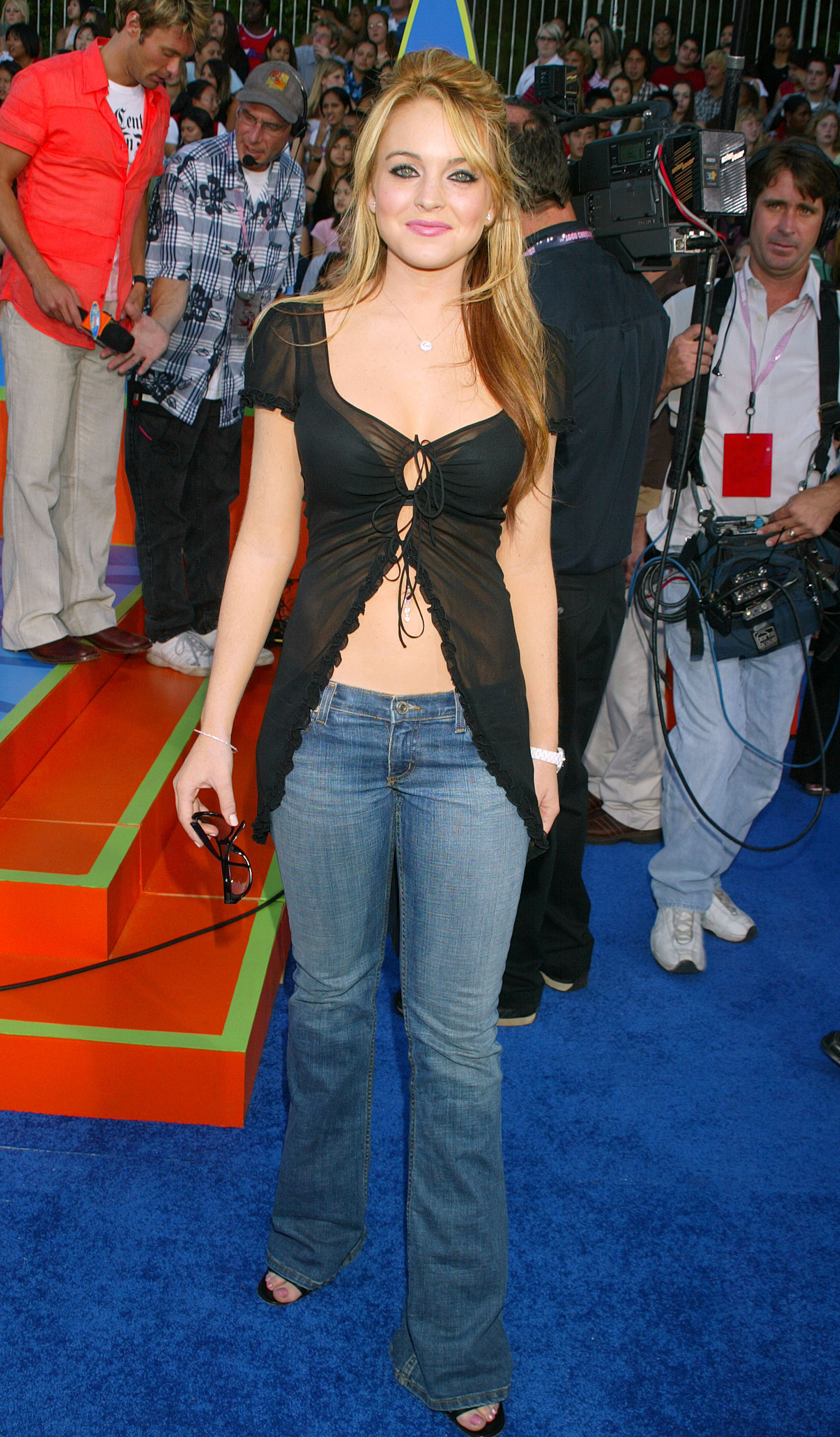 Photo by Jeffrey Mayer/WireImage
At the Teen Choice Awards, 2003
With a slew of successful Disney films now under her belt, and the body-switching comedy Freaky Friday days away from release, Lindsay arrived at the Teen Choice Awards alongside her co-star Jamie Lee Curtis to present the Choice TV Comedy Actor award (to Ashton Kutcher for That 70's Show). Lindsay's look was fun and daring with a black bra under a sheer frilly cardi-top and the ultra low-rise jeans that would become integral to her signature style.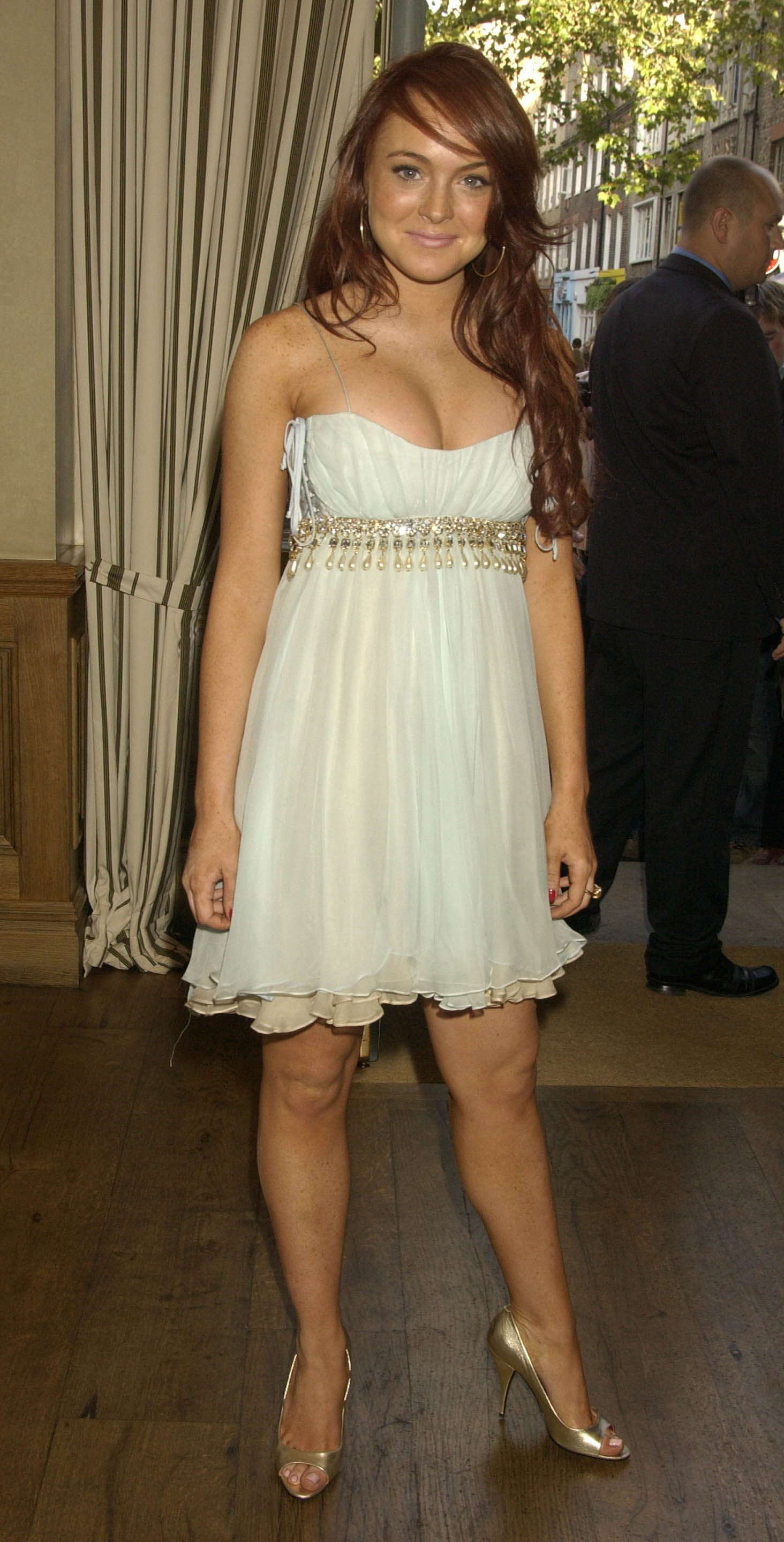 Photo by Dave Benett/Getty Images
At the Mean Girls premiere, 2004
Lindsay has always had an affinity towards Marilyn Monroe, the late actress, singer and 'bombshell' model of the 50s who was likewise hounded by the press. At the premiere of Mean Girls — the film that took Lilo from child star to a 00s teen tour de force — the star wore her go-to: a mini-dress, in a breezy white style that had clear nods to her idol. Lindsay would continue to honour Marilyn throughout her career from ringleted hair on the covers of New York Magazine and Playboy, to whatever this bizarre comedy sketch is and reading excerpts from Marilyn's diary for a 2012 documentary.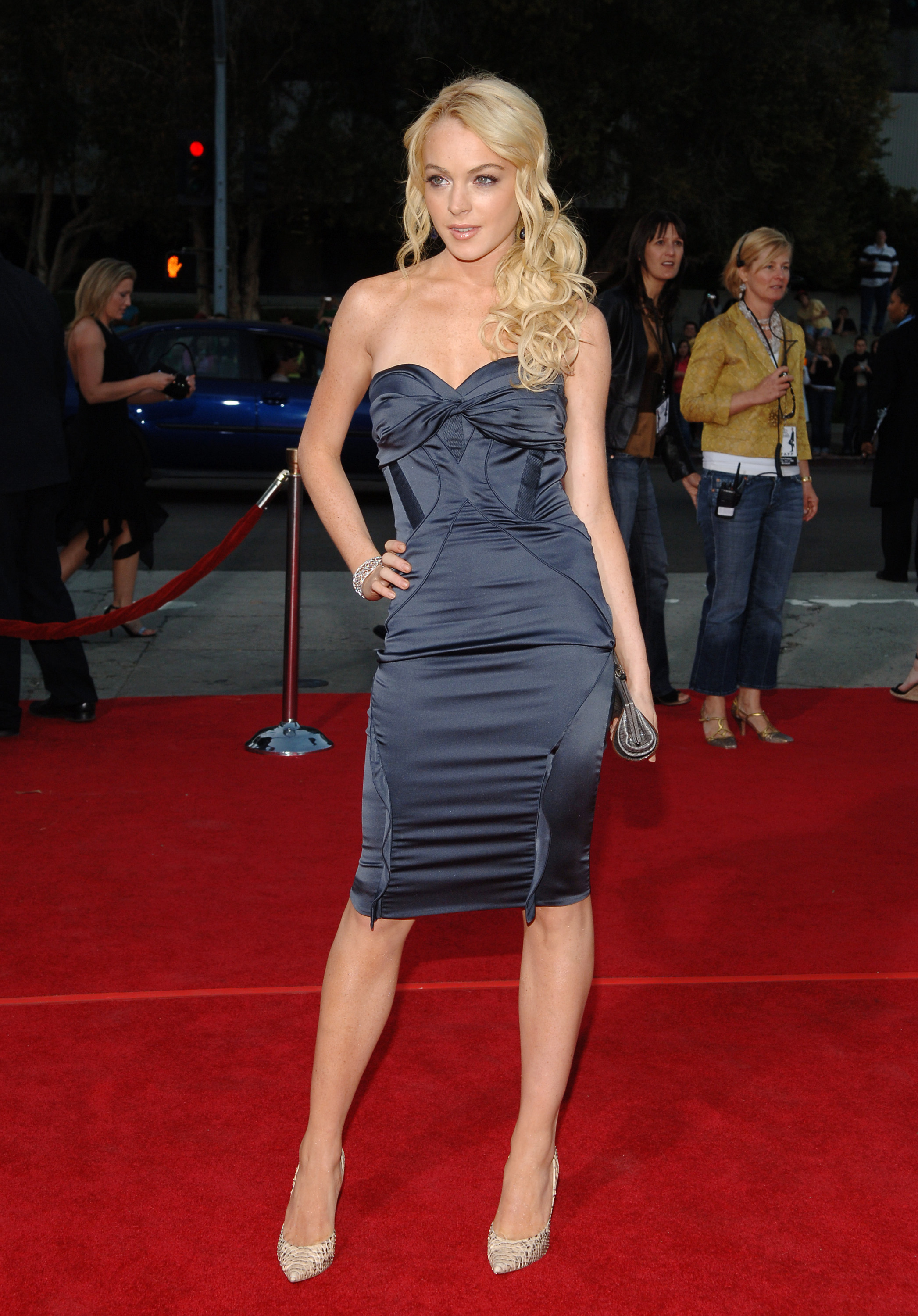 Photo by Jon Kopaloff/FilmMagic
At a movie premiere in LA, 2005
Around this time, Lindsay hired stylist to the stars Rachel Zoe who was the go-to fashion oracle for Nicole Richie, Paris Hilton and Mischa Barton, and pioneered the LA 'boho-chic' style. Tabloids and fans alike noticed that Lindsay's style had stepped it up a notch, which was fitting for the major household name she had quickly become. Making an appearance at the premiere for the Brangelina spy film Mr & Mrs Smith, Lindsay showed off a sultry metallic Gucci gown and Chloe heels with her newly platinum beachy hair.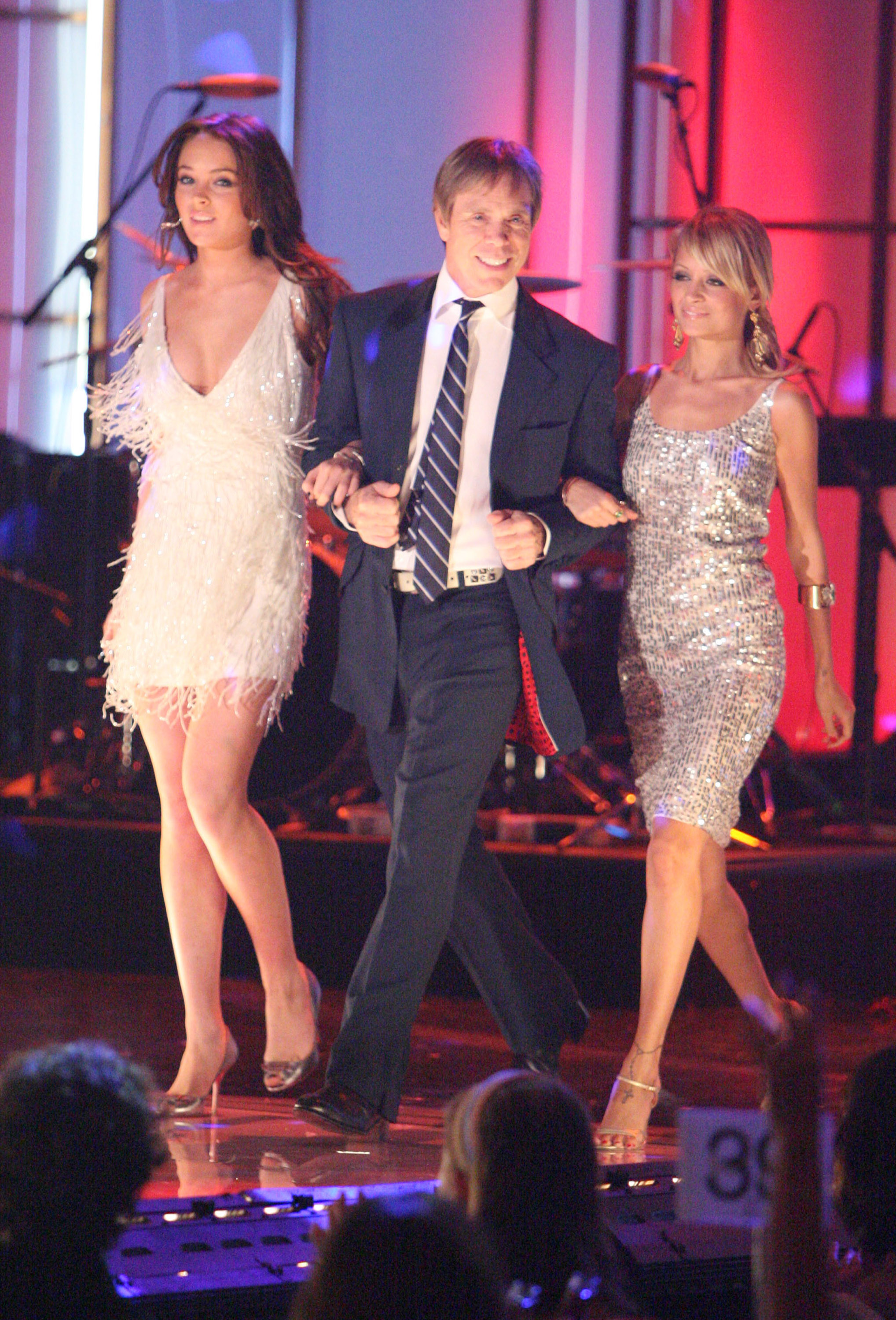 Photo by Jason Merritt/FilmMagic
At a fundraiser with Nicole Richie and Tommy Hilfiger, 2006
Alongside Marilyn and the 50s, Lindsay style was also inspired the flapper girls of the Roaring Twenties. Arm in arm with designer Tommy Hilfige
r and then BFF Nicole, before chatting the night away with other icons of the moment, Gossip Girl's Michelle Trachtenberg and One Tree Hill's Sophia Bush, Lindsay stunned in this animated crystal-white fringe mini-dress.
Photo by Jon Kopaloff/FilmMagic
At the MTV VMAs, 2008
A recurring theme within the fashion history of Lindsay Lohan is the whimsy and silliness she loves to express in her sartorial choices. The press were of course going to talk about her anyway, so why not give them something to talk about! And where better to do so than the ever controversial MTV VMAs. Take this seemingly normal dress she wore to the 2008 ceremony — the year Britney won her first Moon Man and everyone was arguing about purity rings. The minimal House of Holland fitted garment featured fun open zip detailing across Lilo's boobs and butt, cheekily visible when she turned around or moved her hair.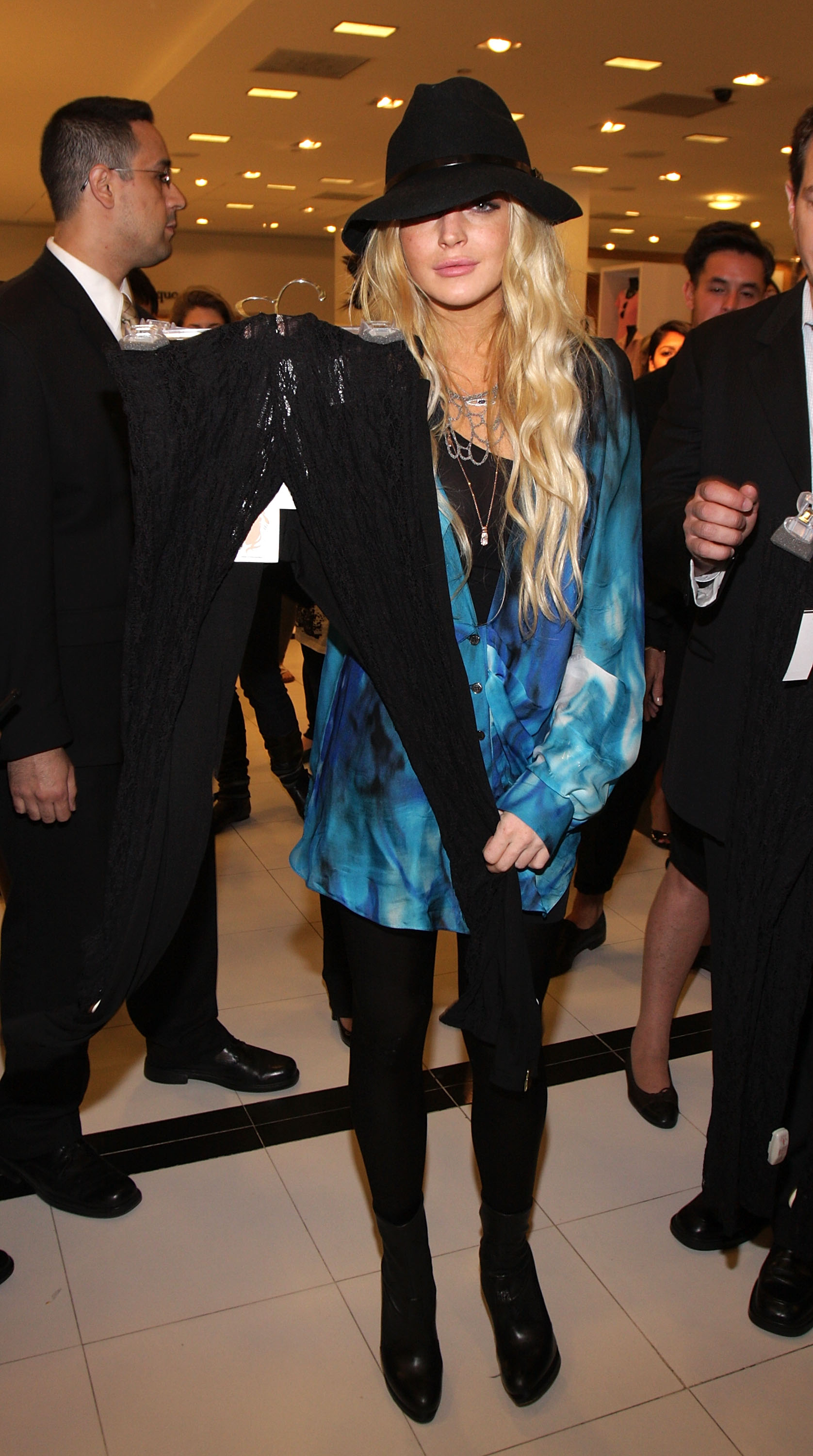 Photo by Jerritt Clark/Getty Images for Bloomingdale's
At Bloomingdale's, 2009
In 2008 Lindsay released a collection of leggings under her new fashion line 6126, the name a reference to Marilyn's birthday. From dramatic cut outs to excessively high waists, pockets and lace panelling, each design had fittingly Lohan-esque names like "fame", "lust" and "star". The leggings were a huge success, selling at retailers across the US including the Kardashian's DASH store, and they eventually led to an expansive clothing collection in 2010. i-D's Mahoro Seward even noted that "Lindsay made leggings so hot that between 2008 and 2013, an entire micro-generation of teenage girls literally only ever wore leggings and sweaters on trips to regional shopping centres the nation over." The power that that has.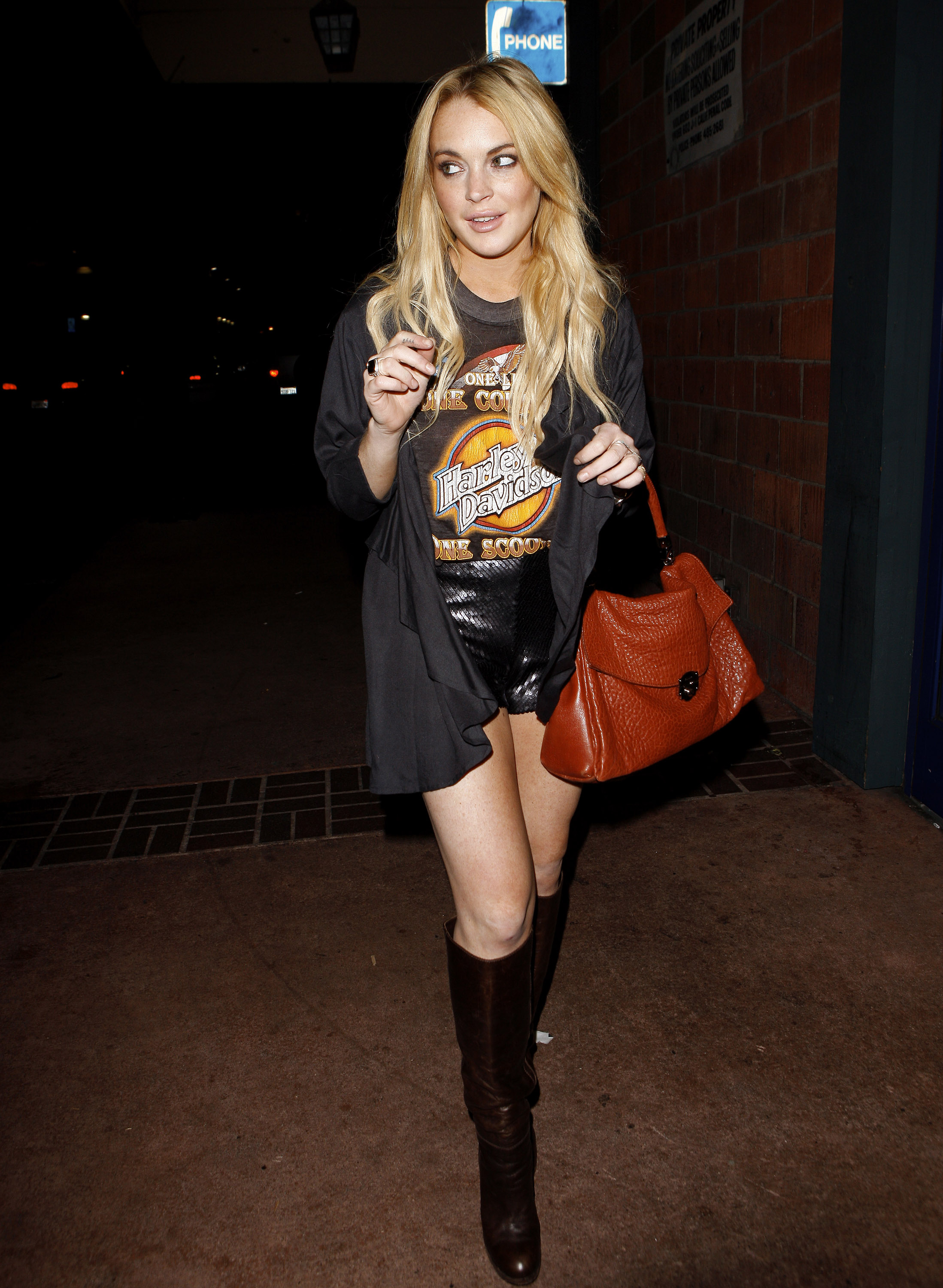 Photo by Jean Baptiste Lacroix/WireImage
In LA, 2010
Fashion writer Shane Watson dubbed Lindsay part of the "triple f crowd" — the f's being "famous and fashion-forward" — who were changing the fashion industry at large. He noted that the massive appeal of Lindsay, Kate Moss and Sienna Miller meant their fans wanted to emulate their style now and not in six months time when the high-end clothes they wore would be made available to the masses. This led High Street retailers to design looks around what Lindsay and her celeb pals wore, instead of in response to the runway season. Though Lindsay's stint as Artistic Advisor for Ungaro may have not fared so well, her street style was constantly making waves. After all, there's a reason why seven fashion-obsessed teenagers risked jail to break into her Hollywood Hills house in 2009 and steal the clothes of their "ultimate fashion icon".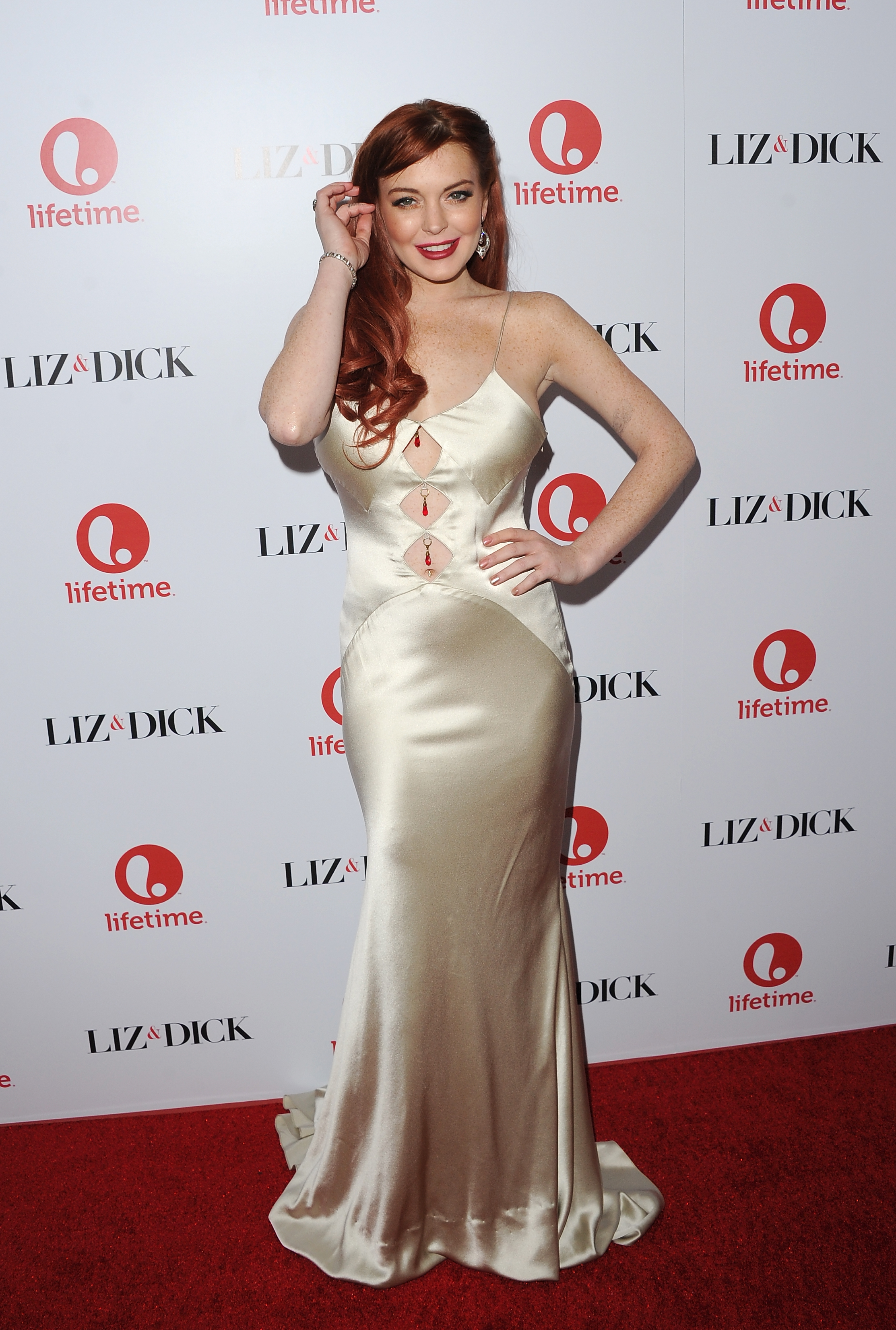 Photo by Jason Merritt/Getty Images
At the Liz and Dick movie premiere, 2012
Lindsay was cast to play another one of her bygone icons: silver screen starlet Elizabeth Taylor, in the 2012 Lifetime movie Liz and Dick. The film would follow the actress' tempestuous relationship with Richard Burton. who she met on the set of Cleopatra. An avid fan, Lindsay had previously paid tribute to the star on the Karl Lagerfeld-shot cover of Interview magazine in 2006. At the premiere for the movie, the starlet served Old Hollywood glamour in a svelty Donna Dashini gown and chic stole.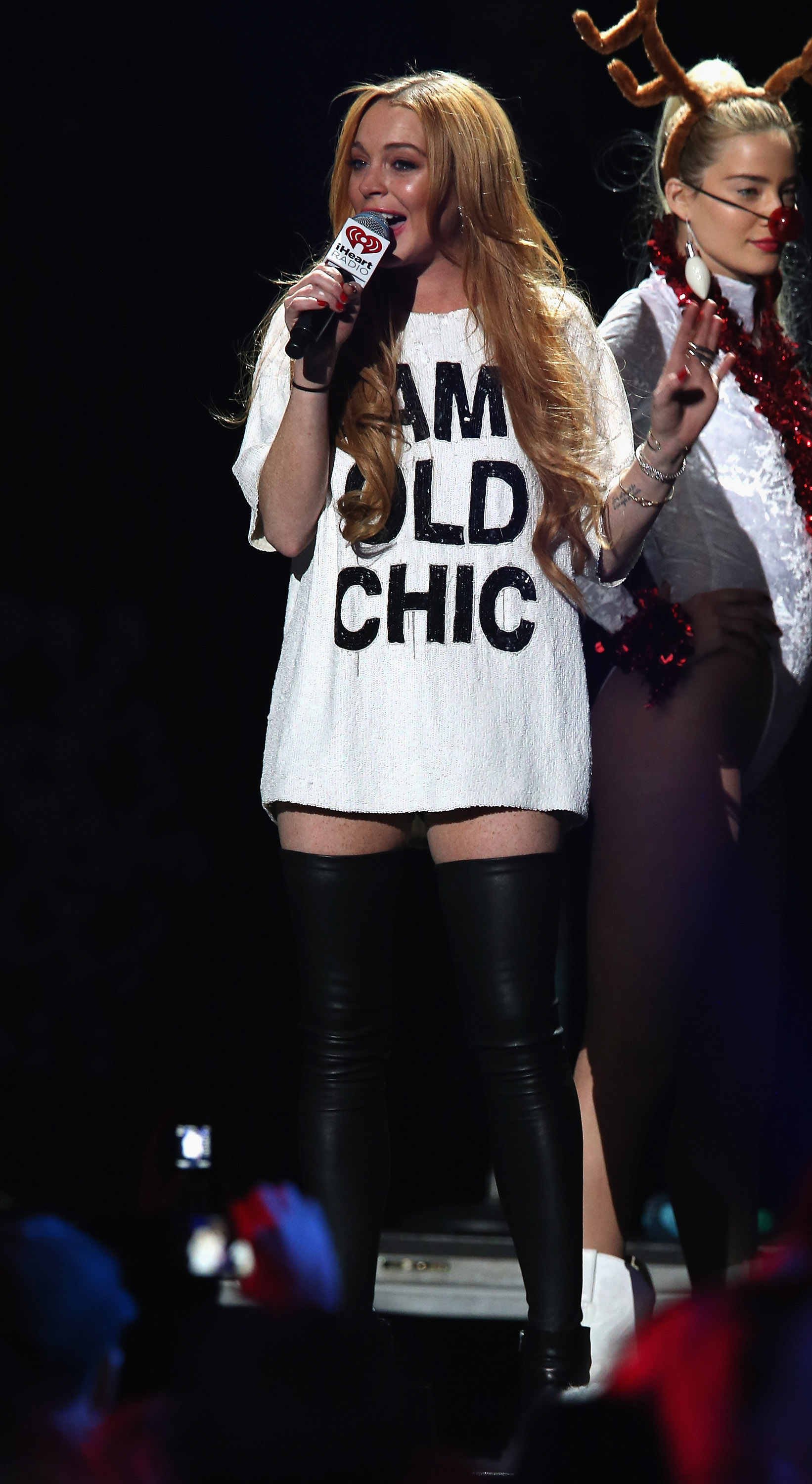 Photo by Kevin Kane/WireImage
At Z100's Jingle Ball concert, 2013
After a self-aware SNL skit and a lauded scene alongside Charlie Sheen in Scary Movie 5, Lindsay's sense of self-deprecating and reticent humour was becoming a lot more prominent (she'd later iconically become the face of lawyer.com and troll Donald Trump). This side of her personality also often came through in her fashion. Introducing fellow Disney child star turned paparazzi-stalked teen idol, Miley Cyrus, at Z100's Jingle Ball concert, Lindsay showcased a meta "same old chic" oversized sequin tee by London designer Ashish, with hot pants and killer thigh-high black boots.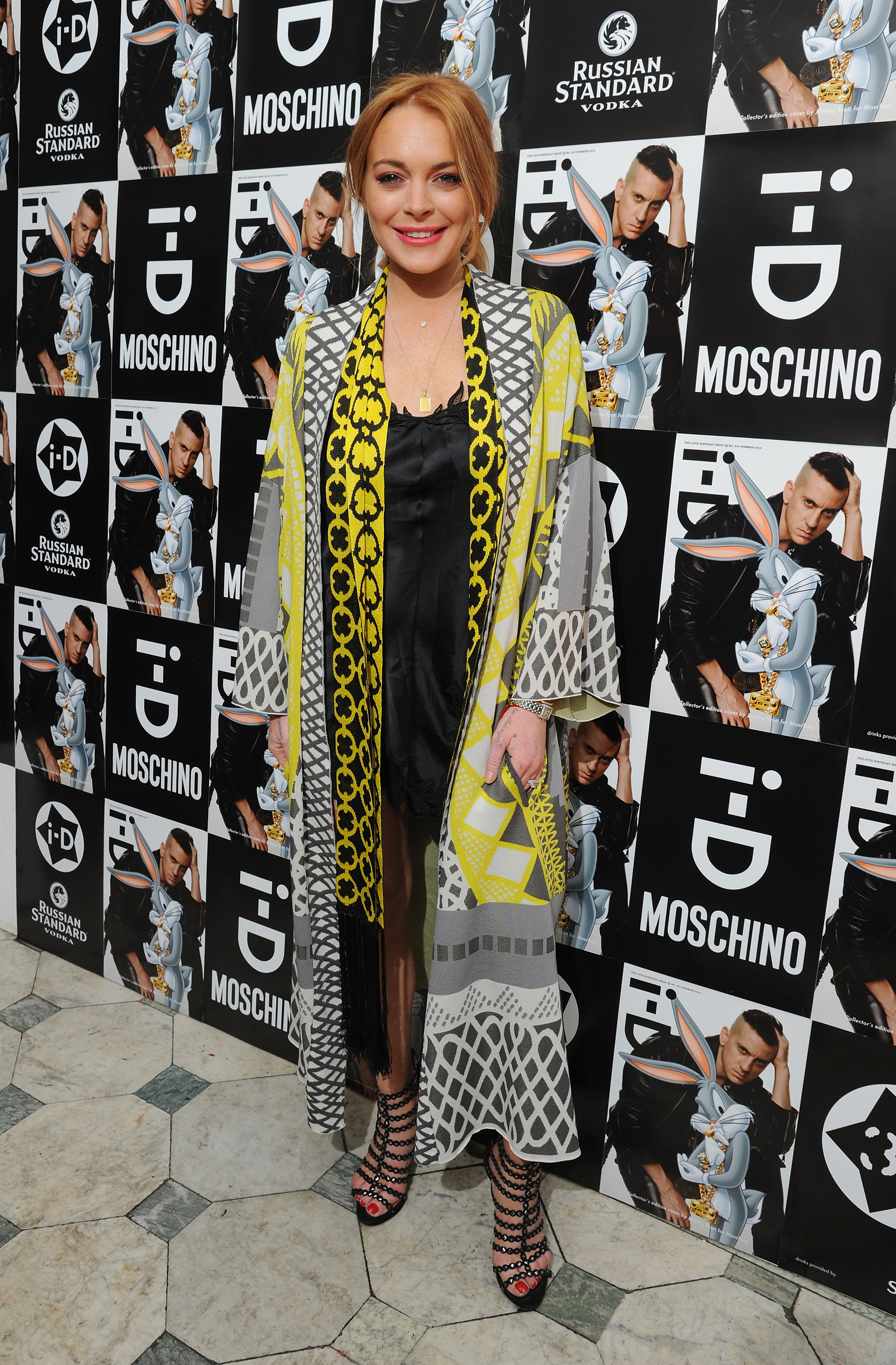 Photo by David M. Benett/Dave Benett/Getty Images
At the i-D 35th anniversary party, 2015
After covering i-D's The Wealth Issue in 2006, the star turned up to our 35th anniversary party at the Moschino Mansion in London wearing a fun fringed LBD, bright printed kaftan and gladiator heels. She posed for pics with a crown-wearing Jeremy Scott, and partied the night away with A$AP Rocky and Kate Moss, designers Pam Hogg and Sam Hughes, skater Blondey McCoy, East London DJ Princess Julia and even an incredibly fresh-faced Dua Lipa.
At her Beach House in Mykonos, 2018
More recently, Lilo has been living a more private life in Dubai where a law banning non-consensual photos makes for a lack of paparazzi. We've seen her on occasion in the MTV reality series that documented her life as Mykonos Beach Club Boss, and the star has hinted at a potential return to Hollywood and new music. However, when this clip of Lindsay dancing to Zayn Malik's "Pillowtalk" went viral it made us all happy to see our fave — after a tumultuous rise to fame — be so carefree and happy. Wearing a metallic jumpsuit that epitomises the Grecian goddess vibes of her style as of late, Lindsay flipped her hair in front of a pride flag surrounded by glittered-up bodies and drag acts. THIS is how you throw a party in Mykonos bitch!