Last-Minute Gift Ideas For All Budgets
I know I'm a little late in the game here, but I wanted to quickly share some of my personal favorite gift ideas for this holiday season!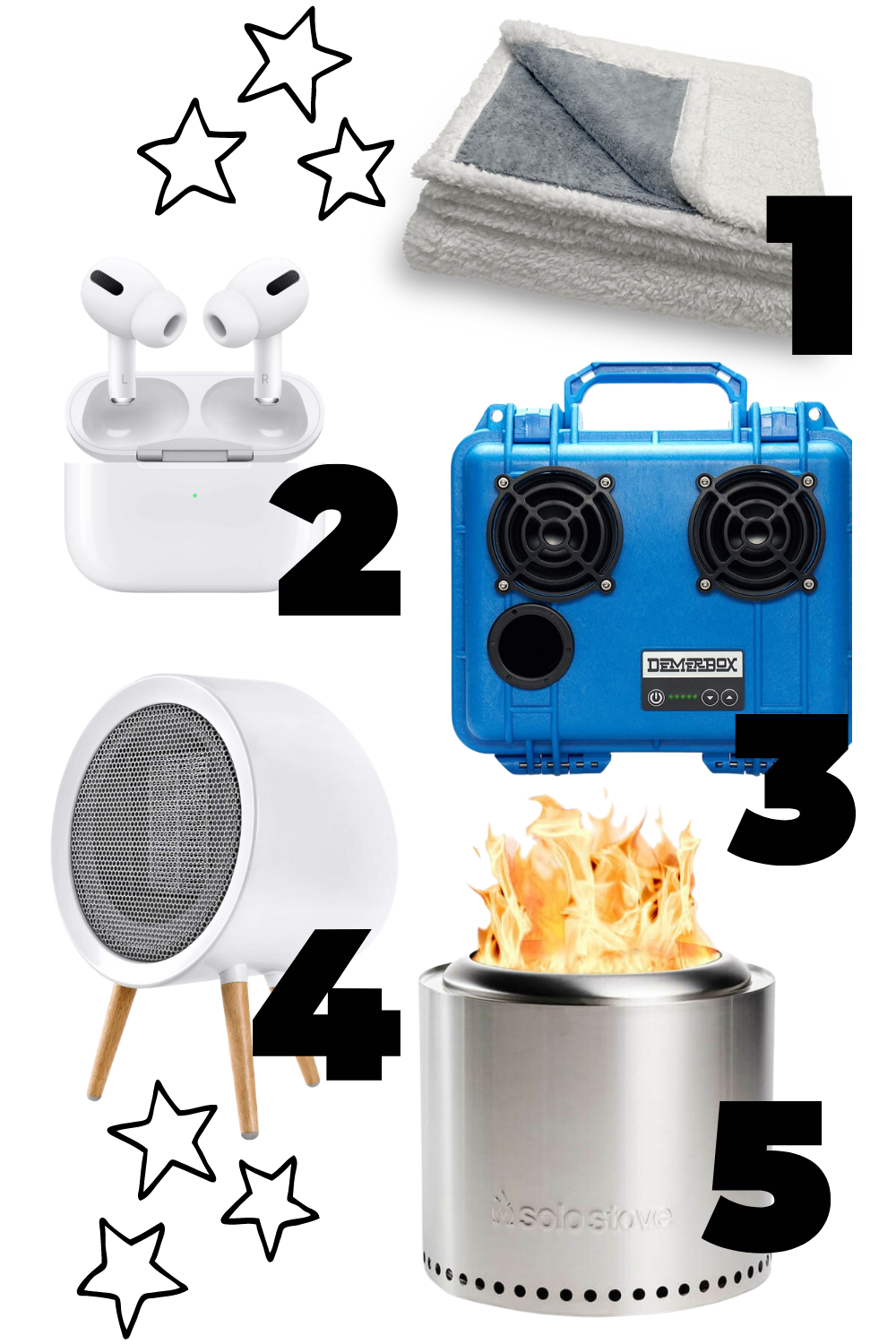 These are all items that I personally own and totally adore, so I know the special someone in your life would love them, as well. I tried to select from a wide range of price points, so there's sure to be something that fits in your budget. If you have any questions at all, just ask!!
1| Puffy Blanket (Medium Size) — Oh my gosh, this blanket is SO super soft and luxurious! I snuggle up with it daily, that is when I can wrangle it away from my kids and my freaking DOG, LOL. They LOVE it, too!! I have the medium size, and it's absolutely huge (which is a plus for sharing). But you could definitely size down if you're just looking for a throw blanket.

2| Apple AirPods Pro — I wasn't initially looking to purchase these, but I got an amazing discount on them when I bought my new Macbook Pro a few months ago. The previous model always hurt my ears, and I'm happy to say that these are actually super comfortable. And the noise-cancelling feature is pretty awesome when you have a house full of kids doing remote school…

3| Demerbox Waterproof Bluetooth Speaker — We've had this super durable waterproof bluetooth speaker for two summers now, and I have to say it's been worth every penny. We take it to the beach, kayaking, on Jeep trails, and use it out on our patio almost nightly. The sound is amazing, and if you have a friend that has one, you can pair the two to increase it even more. We're planning to purchase a second one next summer just for that purpose!

4| Modern Small Space Heater — This ain't your grandma's space heater! It's waayyy cuter and perfect for smaller spaces. I use it in my drafty office, and it really warms it up nicely! My husband even gave it a thumb's up, and he is decidedly in the anti-space heater faction.

5| Solo Stove Ranger — So this was our big pandemic purchase last spring, and we certainly got our money's worth out of it. We were originally going to install a gas firepit on our patio, but this truly lives up to the smokeless claims and gives off plenty of heat. In fact, we just used it this past Saturday night when it was downright chilly, and I wasn't even a bit cold.
Originally we purchased the HUGE original Yukon model, and while we totally love it, it does use a lot of wood quickly. We then picked up the small Ranger size to use on warmer evenings, and while we love the small size and portability, it doesn't give off quite enough heat for colder evenings.
I feel like the Bonfire might actually hit the sweet spot, so we may pick up one of those and sell one of the other two this spring. Either way, they're fabulous, and SO many of our friends have gone out and purchased one for themselves after seeing ours!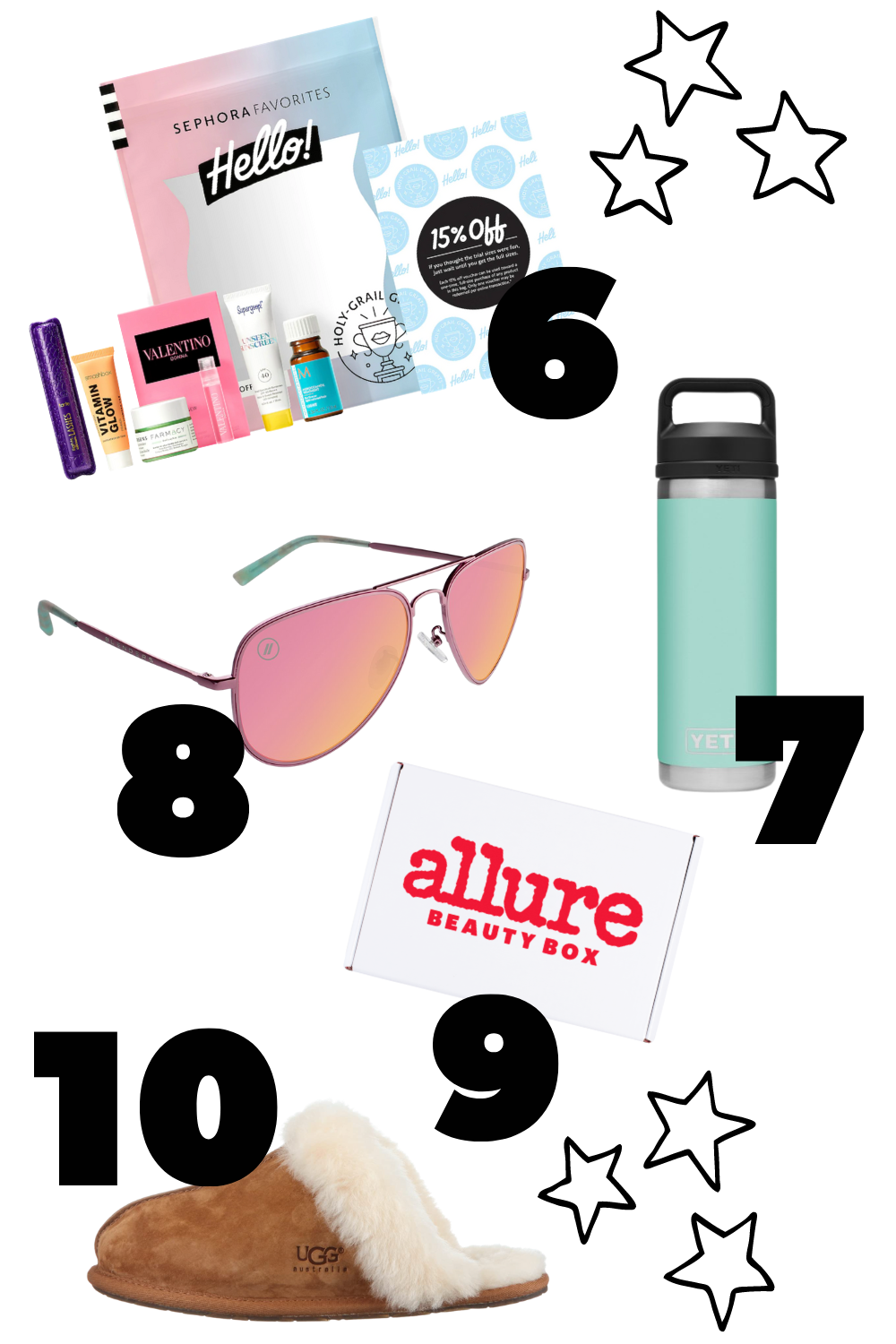 6| Sephora Hello! Sample Packs — These sample packs are packed to the brim with generously-sized samples of the hottest products around. Full disclosure: I've ordered the Holy-Grail Greats pack THREE times because it's such a fantastic value, and I love every. single. product. You can't beat these for a mere $10! Plus they come with 15% off coupons for the full size of each product included. These would be amazing stocking stuffers!!

7| YETI 18-oz. Rambler Bottle with Chug Cap — You're probably noticing a recurring theme here…, but this is another one of those purchases that I actually made for myself but then had to go out and buy more because my kids kept taking it. We ended up buying them all one for their stockings last year, and it's been one of the best decisions ever.
We've completely eliminated plastic bottles in our household, and my kids drink more water than ever. I particularly love this size because it holds a good amount but still fits in the cupholders in my Jeep. And it keeps my drinks ice cold for hours and even days!

8| Blenders Air Wonderful Sunglasses — I've actually purchased, I think, three pairs of these sunglasses in this color so far. Yeah, I'm kind of rough on my sunglasses, LOL… But I love the fit and style so much, that I go back to them every time! And they're very budget-friendly, especially if you happen to catch one of their BOGO specials. I also have/had the Blue Angel color scheme and love them equally as much. BUT a friend's dog devoured them at a cookout last summer, and I haven't picked up another pair yet. See my luck?!

9| Allure Beauty Box — It's always a happy mail day when my new monthly Allure Beauty Box arrives! It's pretty much the only subscription box that I've consistently kept over the years. Each month it's packed with 6 or more products (at least 3 FULL-SIZE) valued at $100+, and I've definitely found more than a few of my favorite go-to products through it. Right now you can try it for 50% off the first month, plus you'll receive two free gifts. It's definitely worth a try!!

9| UGG Women's Scuffette II Slippers — I put my foot down on this one (ha!) and told my girls that under no circumstances should they even consider taking my slippers! I'm one of those people who are perpetually cold, to the point where I even wear socks to bed. Yes, my husband hates it… These slippers are so warm and comfy that I don't even need socks!!

Hope you found some fun ideas here… As I mentioned, if you have any questions at all about any of these products, I'm more than happy to give you my perspective! XO