La-Z-Boy's summer renovations to reflect our changing shopping habits
Article content
Because the ways that people shop are changing, La-Z-Boy Ottawa & Kingston has launched an ambitious renovation program for its stores this summer to better serve not only the consumers of today, but also tomorrow.
Article content
From June to September, La-Z-Boy's Cyrville and Kingston stores will be completely updated to meet the needs of modern shoppers. Say goodbye to the old-fashioned "racetrack" design that had clients making a lap around the store. Instead, they'll be offered more interactive displays and mixed displays of furniture to provide more design inspiration.
While those two stores undergo major renovation, their Hunt Club and Kanata stores will also get makeovers to keep all of their locations consistent. All four stores will remain open throughout the renovations, and the plan is to move out everything so customers will be able to pick up some quality pieces of furniture at unprecedented prices.
"It's all got to go," said Cecile Panet-Raymond, the merchandising director for La-Z-Boy Ottawa & Kingston. "When we open the doors of the newly renovated stores, everything has to be new. We cannot have a single article that is old, so there are going to be some great deals to be had."
Article
content
Traditionally, La-Z-Boy's Ottawa locations fulfil a lot of custom orders, but with supply chain delays during the pandemic, people were waiting months to receive their furniture when it would have previously only taken weeks. To combat those delays, La-Z-Boy bought a lot of merchandise to store in local warehouses so that people could get their purchases delivered in a more timely manner. While supply chain problems have lessened somewhat, Panet-Raymond says they still have lots of excess inventory that will be part of this summer's sale.
"What's fantastic is that we bought everything before all the inflationary pressures. A lot of the costs have gone up since, so we will have some great deals in our warehouses as part of the closing sale."
Article content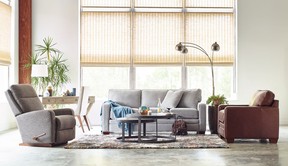 Ron Mathurin, president of La-Z-Boy Ottawa & Kingston, reminded shoppers to come early if they want to have the best choice.
"Those special deals will be at the highest point of opportunity for the consumer early when there is the biggest selection. Those floor models have to go, and we've got to make some adjustments right away at the beginning of June, so that's where the biggest opportunities are going to be."
Mathurin explained that the Kingston store is actually moving to a location right next door to the existing one but will be updated with a new modern shopping concept that is more in line with its newest Ottawa locations. In Cyrville, the store will be divided in half during the work so that the renovation can be done in two phases.
Article content
When the stores are fully renovated in mid-September, Panet-Raymond says shoppers will see all new merchandise, some of which was sourced during the first international trade show that she and Mathurin have been able to attend in person in the past two years.
"We had been trying to do our picks virtually before, but it's so important to be able to see all the different trends and to be able to touch things in person and take it all in," said Panet-Raymond.
"The big trend is to make furnishings more about you, about how you live and about your values."
That means people are more willing to mix and match furniture items instead of buying everything in a set, she says. On the colour front, she says the most popular decorating palettes are still very neutral, but she is seeing more splashes of colour, another sign that people want to personalize their spaces. Where people might have decorated their homes with more sterile, clutter-free rooms, she says people are showing off collections or souvenirs of their travels, another sign of our growing need to personalize our homes.
Article content
One trend that has Panet-Raymond excited is biophilia, a love of living things, which has us decorating with plants, or using colours, shapes and patterns that are inspired by greenery in our desire to bring the outdoors inside. Geometric patterns inspired by art deco, soft textures like chenille and velvet as well as urban farmhouse styles are some of the many other trends that she's been tracking and that customers will be able to discover when they walk through La-Z-Boy's doors at the end of the summer.
"There is definitely a lot of online shopping happening today," said Mathurin, "But when it comes to furniture, purchasing it is still largely happening in stores. People want to make sure that the furniture is the right fit for them and their space. We want to make sure that the customer feels like they're literally sitting in their living room, and they can envision it in their space, which is something that we want to bring about with our new store concept."
For more information, visit www.stylemeetscomfort.ca
This story was created by Content Works, Postmedia's commercial content division, on behalf of La-Z-Boy Ottawa & Kingston.