15 Best Korean Makeup Brands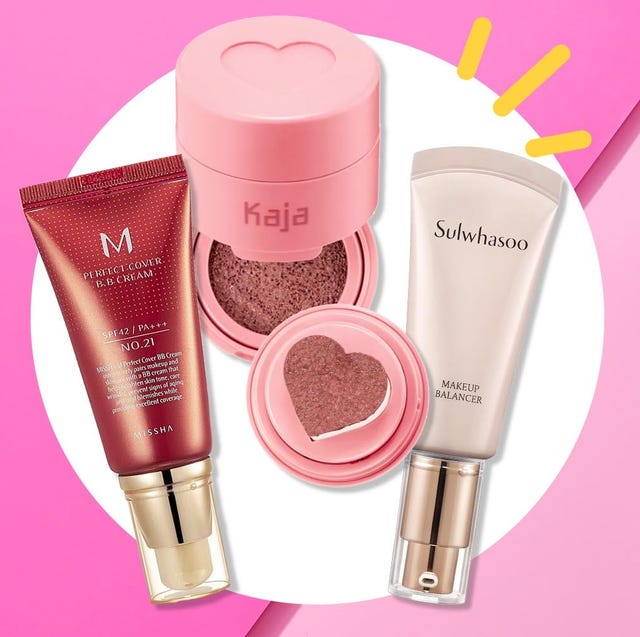 Christine Giordano
When you hear the term K-beauty, you likely think of skincare, but there are makeup brands that deserve love too. Korean makeup brands are constantly evolving and setting trends in the global beauty space. Expect innovative formulas that fuse color with skin benefits and some of the best coverage.
"Korean makeup is quite distinct," explains Grace Okafor, CEO and founder of Korean makeup brand Dr. GIO Cosmetics. "It is not only innovative in the inclusion of a lot of skincare ingredients, but the products are also very lightweight, giving a skin-like feeling or look," This is why there are always vital skincare ingredients (like green tea and hyaluronic acid) in K-beauty products, including makeup." Okafor says an example of this type of skincare and makeup fusion is a cushion foundation —introduced into the global beauty world by K-beauty. "Not only is it very innovative, lightweight in formulation, but it also incorporates skincare ingredients to give a very natural base to the skin," she adds.
Curious if Korean makeup is a fit for you? If you're interested in making your makeup routine more natural and focused on skincare, then K-makeup is for you. The formulas in Korean makeup are crafted specifically to focus on skincare benefits while giving you the makeup coverage you need without being overbearing to your skin. "Anyone interested in skincare while wearing their makeup should look towards K-beauty makeup," Okafor says. Ahead, the 15 best Korean makeup brands along with some of their most loved products.
Advertisement – Continue Reading Below
1
Innisfree
innisfree.com
Innovative beauty products infused with natural ingredients is the foundation of Innisfree. The ingredients come from Jeju Island in Korea, where the purest and potent ingredients thrive in a volcanic element. In the products, you'll find green tea, volcanic clusters, tangerine, and cherry blossoms, to name a few. You'll want to add the My Lip Balm to your cart ASAP. The lip balm has plant oils that moisturize your lips, and each balm has a subtle tint that doesn't leave your lips sticky. The Pore Blur Pact (a pressed powder that absorbs excess oil while leaving the skin looking bright and refreshed) is another makeup staple that you will love. 
2
Dr. Gio Cosmetics
drgiocosmetics.com
$34.99
Dr. Gio Cosmetics is a K-makeup brand specifically made for Black skin. The brand adopted Korean trends to create products that worked well for darker skin tones. Their debut product is the Ultra 7 Brightening Foundation Cushion. "I love natural makeup looks, so the cushion helps to give me a natural dewy and subtle makeup look," Okafor says. The foundation made it possible for those seeking deeper tones in their makeup to find a product that worked well while receiving the benefits of K-beauty. "As an African, I incorporated an African ingredient known for moisturization— Shea Butter, into our brand since it was created for dark skin tones and people of color," Okafor adds.
3
Sulwhasoo
For a holistic beauty experience, take a journey with Sulwhasoo. Harmony and balance are at the center of this brand which focuses on nature's ecosystem. "Our journey to holistic beauty originates from this heritage of treasured knowledge that carefully treats the body and mind as one, an understanding that a single herb alone never suffices," Sulwhasoo's website states. The must-haves? The Makeup Balancer and the Essential Lip Serum. The balancer is a silky primer that makes your skin look naturally dewy and even. Meanwhile, the Essential Lip Serum effortlessly glides across your lips, leaving a light tint.
4
Amuse Makeup
Amuse's fun personality is seen throughout each product. "AMUSE allows you to express yourself with real, essential beauty routines. All AMUSE products are easy-to-use, but one-off in color play and application," the brand's website reads. Try the Seongsudong Eye Palette which is rich in pigment. The colors are vibrant and don't fade or smear after a few hours of wear. The Skin Tone Foundation is another best-seller from Amuse. It's a 2-in-1 product that combines concealer and foundation into one and also provides moisture.
5
Missha
As one of South Korea's beauty market leaders, Missha strives to inspire and empower with their modern, innovative products. Before a product is created, Missha extensively researches current trends and ingredients to ensure that each product delivers the most benefits. Add the M Perfect Cover BB Cream SPF 42 PA+++ to your list of makeup to test—you won't be disappointed! This BB cream adds a buildable, full coverage look while keeping your skin moisturized and protected from the sun with a dose of SPF. The Dare Lip Tint Moist Velvet is another favorite. It's a sheer lip tint that becomes more pigmented the longer you wear it (almost like a mood ring for your lips 🔮).
6
Em Cosmetics
Em Cosmetics provides you with every tool that you need to express your beauty and creativity. The brand offers a Face Cuddle Moisture Balm that prepares your skin for makeup application with a dose of hydration. The Flexibrow Clear Brow Gel transforms your brows by keeping them in place for the most definition. The formula has pro-vitamin B5 that helps to keep your brows nourished so that they remain natural, not stiff.
7
Touch In Sol
Founder Sean Lim wanted beauty to be like Disney World—the happiest experience on earth. This K-makeup brand brings happiness and joy to your makeup routine by making its brand mission to help you find your own beauty.  Looking to add happiness to your makeup collection? Then, the Metallist Sparkling Foiled Pigment is for you. The metallic shades add just the right amount of shimmer without appearing too juvenile. There are natural properties of diamond and pearl powders in the formula, which add intense color and shine. Meanwhile, the Pretty Filter Perfect Finish Foundation pairs nicely with the foiled pigment for a complete makeup look. The foundation has a matte finish that makes your skin look airbrushed.
8
Kaja
Kaja is the first K-makeup brand that is co-founded with Sephora and features colorful products with inclusive ranges. The small, bite-sized packaging with bright designs is hard to miss on beauty shelves. The first thing you want to try is Kaja's Cheeky Stamp Blendable Blush. It has a cushion blend formula and once you apply the stamp to your face, you're able to blend it how you like. The Joystick Brightening Undereye Setting Powder is also a must-have. The lightweight powder sets your concealer under the eye so that there are no visible creases after applying your makeup.
9
TONYMOLY
Founded in 2006, TONYMOLY took K-beauty trends and made them a staple in beauty routines. Each product has high-quality ingredients packed with innovative technology that provides effective results. You'll notice TONYMOLY by its bright and bold packaging. The brand is known for its sheet masks, but also includes a vast makeup offering too. Not sure what to try? We recommend the Double Needs Pang Pang Mascara which stays put and doesn't smudge underneath your eyes. The wand also leaves your lashes curled and looking full. 
10
Etude
Etude offers various affordable products, ranging from mascara to body wash, as well as hand and feet care. As for makeup, the Big Cover Stick Concealer is a favorite. It smoothes dark under-eye circles and blemishes, leaving a natural finish. You'll also want to try the Gradation Contour Wheel. The "wheel" is three shades that build a beautifully blended contour.
11
Cle Cosmetics
Born on the philosophy that beauty products should be modern in technology, Cle Cosmetics provides a ritual of self-care to the contemporary woman. "Our skincare and makeup are curated, sourced, and centered on the latest Korean Beauty technology, but as individual products embrace a distinctly minimalistic approach both in their packaging and simple effectiveness," Cle Cosmetics stated. The products are versatile to fit into busy schedules and the ever-changing needs of a skincare routine. Immediately add the CCC Cream to your cart. You won't be disappointed. The cream is a lightweight foundation that also moonlights as a primer. The end result is a moisturized complexion that glows. 
12
Amore Pacific
One of the most distinguishing elements of a K-beauty brand is the amount of craftsmanship that goes into its products. AmorePacific is no exception. AmorePacific crafts green tea from one of South Korea's finest green tea gardens as the hero ingredient in their products. ICYMI: Green tea is a potent antioxidant that is rich in amino acids that protect skin from environmental stressors and improve the skin's overall appearance. Test the Age Correcting Foundation Cushion Broad Spectrum. It combines anti-aging ingredients with green tea to provide lightweight, yet buildable coverage. There is also SPF 25 for added protection. 
13
VDL
"Born from the innovative streets of Seoul, Korea–VDL offers a new notion of beauty with high-tech makeup innovation," the VDL website says. VDL will catch your eye with its stunning and stylish packaging. The brand captivates innovation and translates new ideas and trends into each product. We recommend the Pantone 20 Boosting Primer, which adds a natural glow to your complexion, while the blue pearl base calms redness and evens out any hyperpigmentation. The Pantone 20 Multi-Color Autio Pencil Liner adds vibrant color to your eyes with smearing.
14
Joah
Focusing on skincare, Joah makes beauty socially conscious and smart. The brand centers around the mission that beauty starts with the skin, which is why Joah is dedicated to formulating their products with the highest quality of ingredients. Make sure to add the Escapades Eyeshadow Palette and the Crystal Glow Tinted Luminizer Stick to your beauty arsenal. The palette gives you six shades to build a distinguished eye-look with soft lavender and nude, shimmering tones. The luminizer stick highlights, contours, and leaves your skin with a radiant glow.
15
Banila Co.
While Banila Co. gained notoriety for their cleansing balm, they also offer a lineup of high-performing makeup products that eliminate the need for a lengthy skincare routine.For the best brows, try the Truetrack Brow Auto Pencil. The triangular-tipped pencil defines the brows by softly filling them in. The Curly Studio All Day Rise Mascara also makes defining your lashes simple. The formula is long-lasting and smudge-proof, which makes wearing the mascara comfortable.
This content is created and maintained by a third party, and imported onto this page to help users provide their email addresses. You may be able to find more information about this and similar content at piano.io
Advertisement – Continue Reading Below