10 Cute 2021 Fashion Trends to Shop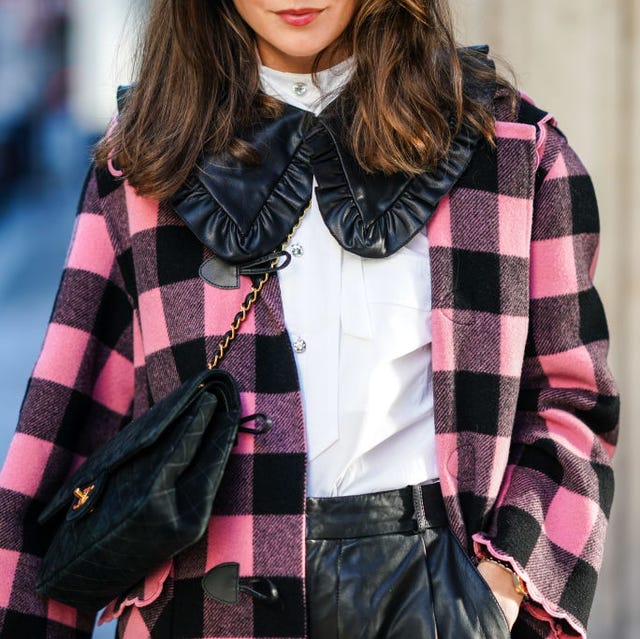 Edward BerthelotGetty Images
With 2020 coming to a close (finally, right?!), it's time to look forward to 2021—and of course, the new fashion trends that come with it. I'm talking shiny silvery metallics, bright neons, investment-worthy bra tops, and a LOT more. On the runways there were so many gorgeous trends to choose from, but the ones below you can look forward to wearing in the warmer spring months ahead (anyone else already tired of the cold?) or start wearing now!
I know we've all been cooped up and mostly wearing pajamas and sweats while at home (guilty), but sometimes dressing up helps give a semblance of normalcy during these times. So if you want some escape, feel free to browse and shop these pretty 2021 fashion trends for a tiny pick-me-up. Whether you're planning on keeping your looks casual or going all out, there's one in here that you're sure to love. And if you're looking for some accessories to pair with your outfits this year, check out all the spring jewelry, shoe and bag trends to complement your clothes. Keep scrolling for 10 cute 2021 fashion trends to stay ahead of the curve.
Advertisement – Continue Reading Below
1
Silvery Metallics
In 2021, the shinier your 'fit is, the better.
Paco Rabanne
2
Silvery Metallics
Mirror Turtleneck
Channel a disco ball in this mirrored turtleneck. (Matching silver pants don't hurt either.)
3
Silvery Metallics
Major Statement Maker Metallic Silver Moto Jacket
A statement moto jacket is the perfect layer to any minimal outfit.  
4
Oversized Denim
Say bye to your skinny jeans (if you haven't already), because this year it's all about loose-fitting jeans.
Victoria Beckham
5
Oversized Denim
Wide Leg Cross Over Jeans
A good pair of jeans can make any outfit; plus, these ones have a fun crossover detail. 
6
Oversized Denim
Playback Vibez Trashed
These jeans have the perf amount of distressing. Pair them with a graphic tee and a boot for an easy 'fit. 
7
Bold neons
They come around every spring, so go on and dress yourself some bright colors like pinks, green, and blue. You'll definitely be the center of attention in these hues.
Balmain
8
Bold neons
Supersoft Zip Up Hoodie
MONROW
revolve.com
$138.00
This bubblegum-pink hoodie and shorts set is soft, cozy, and will stand out from all the other sweats in your closet. 
9
Bold neons
Neiva Blouse
GAUGE81
shopbop.com
$114.00
A gorge lime-green blouse makes the perfect night-out top. Even if your "night out" is just you dressing up and drinking wine at home. Been there. 
10
Statement collars
Statement collars are the perfect way to elevate a simple shirt. Your neckline never looked so fancy!
Rodarte
11
Statement collars
Ruffled Organic Cotton-Poplin Shirt
GANNI
net-a-porter.com
$185.00
This ruffled collar top from Ganni will def pop on all your Zoom calls. 
12
Statement collars
Wide-collared Shirt
Pair a collared top with a leather pant or short, and you'll look so polished. 
13
Extremely See-Through
There's a way to make this trend work for day or night, promise. It's all about the layers!
Alberta Ferretti
14
Extremely See-Through
Maria Maria Dress
Par Bronte Laurent
parbrontelaurent.com
$78.00
This breezy off-the-shoulder sheer dress has spring written all over it. 
15
Extremely See-Through
Ivory Organza Cocoon Top
Topshop
topshop.com
$11.00
Show off your cutest bralette with an organza blouse like this one from Topshop.  
16
Pretty Midi-Length Knits
Knit dresses aren't anything new, but in 2021 they have special twists like ribbed texture and pointelle fabric.
Thebe Magugu
17
Pretty Midi-Length Knits
The Babe Dress
A ribbed knit dress with side slits in this shade?! It's a definite classic you'll wear over and over again. 
18
Pretty Midi-Length Knits
Kiki Dress in Petal
Staud
staud.clothing
$285.00
How cute is this ruffled design? Wear it in the warmer months or layer it with a coat and boots when it's a little chillier. 
19
Fancy Sweats
You've def been wearing your sweatpants for a little while now, and this season they were all over the runway. From silk styles to cool patterns, you'll really want to show 'em off.
Miu Miu
20
Fancy Sweats
The Selbie Silk-Charmeuse Tapered Track Pants
Cami NYC
net-a-porter.com
$156.00
These silky track pants are buttery smooth, and def a step up from your other pairs.
21
Fancy Sweats
Lori Floral Jogger Pants
Leset
shopbop.com
$160.00
The cute floral print on these ones makes you forget they're even sweatpants. 
22
Statement Cut-Outs
If you want to show just a little skin—or a lot of it!—this is the trend for you.
Zimmermann
23
Statement Cut-Outs
Cut Shoulder Sweater
Victor Glemaud
fwrd.com
$375.00
An asymmetrical cut out top is the perfect way to easily elevate your regular long-sleeve look. 
24
Statement Cut-Outs
Elderflower Cut-out Detail Top
Central Park West
revolve.com
$130.00
A cut-out long sleeve like this one looks amazing when layered with neutrals. 
25
Luxe Bra Tops
From silky and knit styles to printed ones, think of a bra top as your newest investment piece.
Alberta Ferretti
26
Luxe Bra Tops
Dana Kriss Kross Bralette
Sammy B Designs
sammybdesigns.com
$42.00
Go for a fun multicolored bra like this one from Sammy B Designs.
27
Luxe Bra Tops
Thea Bralette
For Love & Lemons
revolve.com
$86.00
If you want to stick to the warm and fuzzy vibe, this sweet For Love & Lemons bra will do the trick. 
28
Extreme Volume
Puffs! Flounce! Action!
Stella Jean
29
Extreme Volume
Spice Girl Ruched Top
Fe Noel
fenoel.com
$398.00
You'll get so many compliments in a bright-red top, especially one with this major sleeve moment. 
30
Extreme Volume
Puffed sleeves dress
Keep it simple in an LBD with a statement sleeve. 
This content is created and maintained by a third party, and imported onto this page to help users provide their email addresses. You may be able to find more information about this and similar content at piano.io
Advertisement – Continue Reading Below